Anti-Wrinkle Treatment for...
Anti-Wrinkle Injection
Gummy Smile
Crows Feet
Hyperhydrosis
Bruxism - Teeth Grinding/Clenching
Anti-Wrinkle Injection
Gummy Smile
Crows Feet
Hyperhydrosis
Bruxism - Teeth Grinding/Clenching
Cosmetically we use Botox® treatments to relax the muscles in the face that create fine lines and wrinkles and to prevent further deepening of lines.
It is a simple 10-minute procedure, with a few tiny injections directly into the muscles we want to treat. There is an art to Botox treatments – to achieve the best, most natural looking results it must be placed in the right muscle, in the correct place, at an ideal dose, by an experienced doctor. The most common areas we treat are the frown line, or 'grumpy lines', the horizontal 'worry' lines and the 'crow's feet' around the eyes.
Before & After Gallery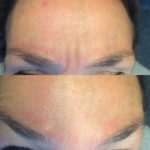 FAQ's
How does Botox work?
Botox is one of several 'wrinkles relaxers' which all work by relaxing the muscles that create the lines of facial expression. These products reduce the messages sent from nerve ending to muscle by reducing a specific message called Acetylcholine, which is the major message from nerve ending to muscle and sweat glands. We believe there is an art to Botox and the wrinkle relaxing treatments. You laugh, you frown, you concentrate and when you do, these facial expressions break down the supporting structures in your facial muscles. The medicine needs to be placed in the right muscle, in the best dose, in the correct place. Our aim is to turn the muscle activity down, but not off, so you still have some facial expression. We use lower doses more regularly, which is why we are renowned for our beautiful, natural looking results.
Is Botox for lines and wrinkles safe?
Yes, we use genuine Botox, which has been safely used for over 20 years in a range of medical and cosmetic applications.
When will I see results with Botox for lines and wrinkles?
You will see results of your Botox treatment in 1-2 weeks. The Botox will gradually soften lines over this period by relaxing the muscles.
How long will Botox for lines and wrinkles last?
We aim to create a 'natural look' with lower doses more frequently to avoid a frozen face, and we generally recommend repeat treatments every 3-4 months to achieve the best results.
What can you use with Botox to make results better?
Dermal fillers: to fill deeper lines, wrinkles and facial contouring, volume restoration and facial enhancement. Botox helps the filler last longer
Dermal Needling: to improve the texture of the skin
Where else can I get wrinkle relaxers?
Wrinkle relaxers have been used for several years with an almost 100% success rate for treating excessive armpit sweating. Wrinkle relaxers can be used cosmetically for gummy smiles, forehead lines, frown lines and more advanced techniques such as lifting the brow and mouth corners by 'rebalancing' facial muscles, or slimming the jawline by relaxing masseter muscles.
To find out if this treatment is right for you, book a consultation now with Mona
Disclaimer – Important information.
"Botox® is a prescription medicine containing 100 units of clostridium botulinum Type A toxin complex for injection. It is used for the treatment of severe frown lines and associated "crows feet" around the eyes. It should be administered by trained medical professionals. Talk to your specialist about the benefits/risks of this procedure in facial aesthetics. Cautions: people with defective neuro-muscular transmission disorders, presence of infection at site of injection, glaucoma, pregnancy and lactation. Possible side effects include headaches, pain, burning or redness at injection site, local muscle weakness including drooping eye lids, lack of feeling & nausea. If you have side effects or concerns, speak to your doctor. Botox® treatment lasts about four months and after this time further courses of treatment may be necessary. Speak to your specialist about your own situation."
Dr Mona Attarpour BDS

Dr Mona Attarpour BDS is a qualified Dental Surgeon with extensive training in injectables. Trained by some of the best educators in the field, Mona will shortly complete her PG Cert in Injectables, which will become the industry standard qualification in the future. Would you risk your face with someone without this advanced level of training?