Skin Care
The Clinic By Mona skincare range has been specifically developed to maintain good skin health on a daily basis. The Clinic By Mona range fights the first signs of ageing by targeting each layer of the skin to thoroughly hydrate and repair. The range introduces an affordable, clinically proven integrated mix if products that work to achieve  brighter and healthier skin.
As we age, we lose moisture and elasticity in our skin which causes wrinkles and other signs of ageing to appear. The Clinic By Mona collection rehydrates skin with a series of clinically proven ingredients. It includes lightweight non-oily hydrators and skin revitalising serums to stimulate collagen and elastin, whilst helping skin to repair and renew more rapidly.
The range has been developed with your daily skin health in mind and will help refine pores and minimise fine lines and wrinkles as well as address any pigmentation issues.
Free collection from The Clinic By Mona or paid delivery available.
Call us for more details: 0191 284 6436
---
REVEAL Glycolic Wash

Contains the natural clinically proven AHAs, Glycolic and Citrus Acid to gently remove the build-up of dead skin cells together with Salicylic Acid to remove impurities and excess oil. This combination will cleanse the skin and increase cell turnover, revealing new and younger looking skin, while preparing the skin for your daily skincare regime.
Massage one pump onto dry skin. Leave on skin for a few minutes to get to work before rinsing with warm water and patting dry. Do not use as an eye make-up remover. Can be used once or twice daily.
£27.99
RECOVER Active Night Cream

Provides some much needed extra care for your skin to help it repair and renew from the stresses of the day whilst you sleep. It has been specifically developed to help rejuvenate through its antioxidant activity. It also re-hydrates your skin to allow overnight recovery and reveal a softer more youthful appearance for the new day ahead.
Apply a small amount to your skin and massage for a few minutes prior to going to sleep and after cleansing.
£27.99
PROTECT SPF 50 Daily Tinted Broad Spectrum Sun protection

A highly effective photo-stable broad spectrum, lightweight sunscreen, containing a combination of of clinically proven filters to protect the skin against the harmful effects of UV rays. It is water resistant and contains clinically proven AHAs, Citric Acid and lactic acid to gently increase cell turnover. It is light and easily absorbed with a natural tint to give an even appearance while having a hydrating effect and protecting the DNA.
Apply liberally before and during exposure to the sun. Can be used as a moisturiser instead of or underneath makeup. Apply regularly.
£29.99
H200 Endurance Moisturiser
This luxury silky moisturiser contains clinically proven ingredients to keep your skin optimally hydrated and in peak condition. H-200 contains tripeptide-1 and tetrapeptide-7 biomimetric peptides to help stimulate growth factors and collagen synthesis, to protect and help restore the skins natural moisture barrier, and reduce inflammation. Natural tara seed extract works deep within the skin to boost moisture levels and help prevent further dehydration. It's also high in vitamin C and B.
Apply to clean skin on face and neck as required.
£59.99
GLOW Exfoliator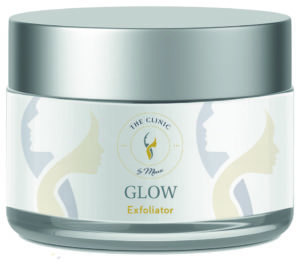 A luxury anti-ageing wash to exfoliate and help improve the complexion. Containing glycolic and quartz, to stimulate, condition and polish skin to perfection. A twice a week routine that will leave your skin looking younger, smoother and fresher with a radiant glow.
(It contains natural refined quartz so no nasty micro beads spoiling the planet and it has a lovely mellow mango fragrance).
Use after cleansing. massage a small amount onto dry skin in light circular movements for two to three minutes, activating with water when necessary. Ensure the whole face has been covered. Rinse off with tepid water, pat dry.
£27.99
CLARITY Photophilic Masque

A weekly purifying masque containing activated coconut charcoal, long celebrated for its detoxifying benefits, will help cleanse and remove the build-up of pollution and other ageing molecules ever present in everyday life. Balances oil and tightens pores. This treatment, also contains Kojic acid, a natural ingredient clinically proven to help lighten and leave a more youthful clear complexion.
Apply generously to cleansed skin and neck and leave for 10-15 mins then rinse off with warm water. Avoid contact with fabrics as may stain.
£27.99
C20 Maximum Strength Vitamin C Serum
Clinically proven L-asorbic acid at its peak concentration of anti-oxidant activity which is quickly to remove free radicals to prevent skin damage, helping to brighten skin and maintain a youthful appearance. The formulation is supported with ferulic acid to create this light effective day serum.
£33.99
REJUVENATE Stimulating Daily Active Serum
Contains the natural clinically proven AHA, Glycolic Acid to gently remove the build-up of dead skin cells. It increases cell turnover to reveal the fresh, younger looking skin and is effective at controlling breakouts, reducing pigmentation and fine lines.
Apply to clean skin on face and neck as required.
£27.99
OPENING HOURS
Tuesday 9-5 Wednesday 10-5 Thursday 9-5 Friday 9-5 Saturday 10-4